Do you like everything in one package well here is your answer...for $35.50 you can get a


Workshops on the Go® Zoe Scrapbooking Kit

Item Number: G1096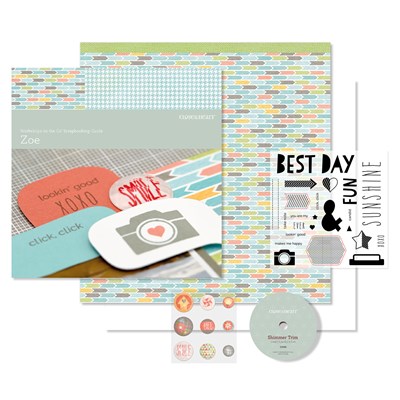 PRODUCT DESCRIPTION
Workshops on the Go

®

Zoe Scrapbooking Kit Contents:
1 – My Reflections™ Zoe Paper Packet (X7197B)
1 – My Acrylix

®

Zoe Workshop Stamp Set (D-size)
3 – Cardstock Sheets (White Daisy)
1 – Zoe Assortment (Z3082)
1 – Coral Shimmer Trim (Z3088)
1 – Instructional Brochure
Featured Colors: Canary, Glacier, Slate, Sorbet, Sweet Leaf, Whisper, White Daisy
Use the material and instructions in this kit to create two beautiful 2-page layouts.
Stamp images outlined in red coordinate with the Cricut

®

Artistry collection (Z3167).
Buy a couple of sets, invite a friend or family over and get started. There will be enough left over materials to make some cards.